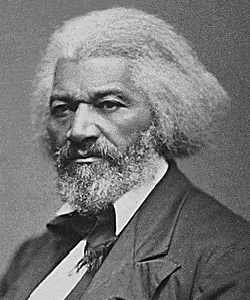 Frederick Douglass
gave a speech in
Carlisle
Santo Domingo
. In 1871 President
Ulysses S. Grant
United States of America
. Douglass delivered his speech at Rheem's Hall, which was located behind the Old Court House in Carlisle. Today that location is a parking lot. Reports about the speech did not appear in any national newspapers, but his visit created a local controversy. George Z. Bentz, who was the manager of the Bentz House and a Republican, refused to let Douglass eat his dinner in the hotel dining room with the white guests. (The Bentz House stood on what is today the former Wellington Hotel on East High Street). The
American Volunteer
used the incident to characterize Republicans as hypocritical. "We have in this circumstance positive evidence that the Radicals are just as loath to recognize negro-equality as the Democrats," as the
American Volunteer
observed. While the
Herald
"[found] no fault with" the manager's decision, the editors argued that policies which denied African Americans entry into a hotel "[were] simply silly and wicked." In addition,
Historic Carlisle
recently added a
Wayside Maker for Douglass' visit
David L. Smith also discusses Douglass' visit  in his essay "Fredrick Douglass in Carlisle" (2005). Smith provides transcripts of the newspaper articles cited in this blog post.
David L. Smith, "Fredrick Douglass in Carlisle
Cumberland County History
22 (2005): 48-60.
Location: Bentz House stood on what is today the former Wellington Hotel on East High Street ; Rheem's Hall, which is a parking lot today, was located behind the Old Court House
This essay has been posted online with permission from the Cumberland County Historical Society.