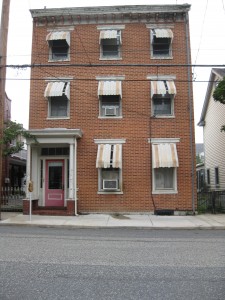 Carlisle
, Pennsylvania, was one of the oldest men in the region who answered President
Abraham Lincoln's
Fort Sumter
on April 12, 1861. Colwell joined the Carlisle Fencibles, a local volunteer company under the command of
Robert Henderson
, as a first lieutenant. Six weeks later the Fencibles left Carlisle for Camp Wayne in
West Chester
, Pennsylvania, where they received training and were designated Company A of the 7th Regiment, Pennsylvania Reserve Corps. His wife,
Ann
, had not been happy with that decision. "You left me without talking about it," as Ann reminded him. While James admitted that "[he] err[ed] frequently," he observed that "it [was] nearly always an error of the judgment & not of the heart." Yet in this case he argued that it was impossible to get out of the army. "I do not see how I could get out of the service without bring[ing] disgrace and dishonour on myself & my little family," as Colwell explained. Colwell had in mind his four children – two sons and two daughters. Colwell's oldest daughter, Nannie, was about six years old in December 1861 when
she announced
in her "first letter" that she "[could] read" and "[sent him] a big kiss." Colwell was able to return to Carlisle on furlough, but on September 17, 1862 he died during the Battle of Antietam. Local newspapers
published obituaries
American
, which noted that "[Colwell's] high moral character and exemplary life had made him a bright example in our midst."When Civil War veterans in Carlisle established a local chapter of the Grand Army of the Republic in February 1881, they decided to call it the Captain Colwell Post.
The Colwells are important to Carlisle
The Bitter Fruits
.
The Colwell family's house was located at 145 South Pitt Street in Carlisle, PA.
---